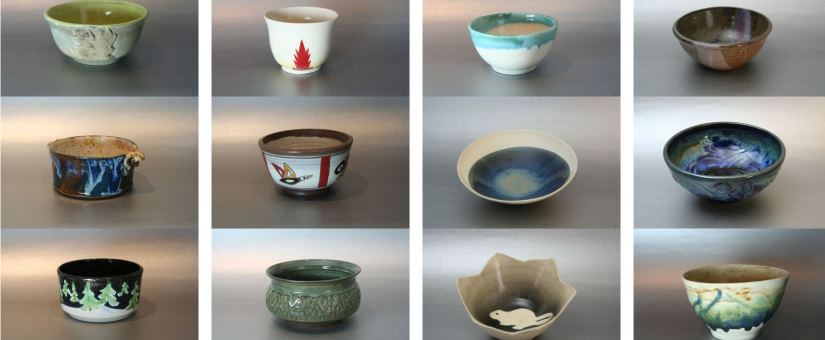 Posted by Ottawa Food Bank
On April 18, 2017
0 Comments
This year's 12th Annual Great Bowls of Fire event was an incredible success.
Thank you to our generous friends from the Ottawa Guild of Potters for continuing to support the Ottawa Food Bank through this delicious event. We appreciate the time you put towards creating the beautiful bowls for your guests, and organizing an amazing evening for all to enjoy.
Great Bowls of Fire brings the community together while raising an incredible about of money. This year the event raised $14,400!
Thank you to everyone who purchased a ticket and bid on auction items. Your attendance and participation makes a difference to our neighbours in need.
The evening was made complete by not only the delicious offerings and beautiful pottery, but also the wonderful music by pianist Jack Hurd, and by host Sandy Sharkey.
Thank you to all the generous contributors of the evening:
Potters:
Lisa Binkowski, Carol Badenoch, Amy Bell, Sue-ann Blakely, Melanie Cuellar, Elizabeth Davies, Debra Ducharme, Sarah Hand, Marie Hennessey, Carol Holmes-Kerr, Katherine King, Carolynne Pynn Trudeau
Restaurants:
Absinthe, Jonathan Korecki, Kung Fu Bistro. Il Primo, Stoneface Dolly's, TastersHub, The Rowan, Thyme and Again, The Joy of Gluten Free, Union Street Kitchen Café
Bakeries:
Life of Pie, Sweet Clementines, The Joy of Gluten Free, Trillium Bakery
Businesses:
Party Time Rentals, Costco (Merivale Rd), Farm Boy (Kanata), Farm Boy (Signature Centre) Food Basics (Stittsville), FreshCo (Bells Corners), Giant Tiger (Bells Corners), Giant Tiger (Stittsville), Loblaws (Bells Corners), Loblaws (Isabella Street),  Metro (Bells Corners), Starbucks (Bells Corners), Starbucks (Pinecrest), Loblaws (College Square) Superstore, (Eagleson Rd), Superstore (Richmond Rd), Your Independent Grocer (Eagleson Rd), Your Independent Grocer (Stittsville)  The Glebe Neighbourhood Activities Group
Printing:
Allegra