It's a day-long celebration of giving!
This holiday season help give the gift of hope and food for those in need in Ottawa. On Friday, Dec. 9, please join CBC Ottawa for Project Give in support of the Ottawa Food Bank. Tune in and come out to meet the CBC Ottawa team and their special guests who will be broadcasting live at various locations across the city to bring you a day of stories, music, and charitable giving.
What can you do RIGHT NOW to make a difference? Donate online! Or bring a non-perishable food item to St. Laurent Shopping Centre (11:30 a.m. – 1 p.m.) and the Gloucester SuperStore (3 – 6 p.m.) where CBC will be LIVE on location on December 9th.
On December 9th, please call the CBC donation line at 613-288-6444.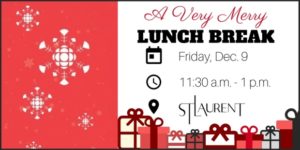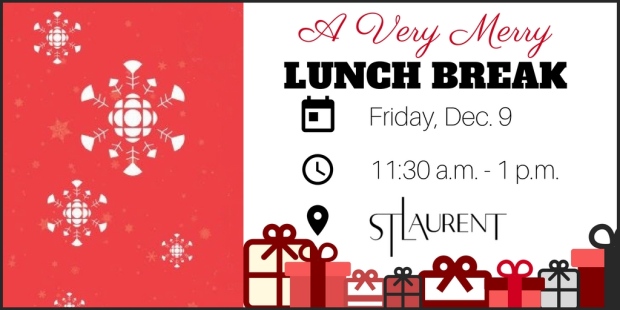 Stop by St. Laurent Shopping Centre between 11:30 a.m. and 1 p.m. for A Very Merry Lunch Break.
Live music, crafts and special guests, including Kids' CBC characters Bookaboo and Chirp and your local CBC Ottawa hosts!
Santa Claus won't be the only one you'll find near the Centre Court in the mall on Dec. 9.
[shortcode_button type="default" align="left" target="_blank" link="https://payment.csfm.com/donations/ofb/index.php?form_type=projectgive" icon="none"]Donate now![/shortcode_button]
You can also text your donation by texting "CBC Give" to 20222 to make a
$5 or $10 donation.
Want to participate in All in a Day's Dash & Dish Grocery Shopping Challenge? Find all the details here.
Schedule:
Tune in to hear Robyn Bresnahan live in studio along with special musical guests and follow reporter Hallie Cotman as she rides along with the Ottawa Food Bank Food Truck.
Spend your lunch break with CBC Ottawa at Centre Court in the St. Laurent Shopping Centre. Meet CBC hosts and their special guests Bookaboo and Chirp from Kids CBC. There will be crafts for the little ones and live music, plus with every non-perishable food donation or monetary donation made to the Ottawa Food Bank, fill out a ballot to win a great gift pack filled to the brim with goodies from Kids CBC.
You won't find Alan Neal in the studio this year! All in a Day is mixing things up and broadcasting live from the Gloucester Loblaws Superstore at 1980 Ogilvie Rd. You're invited to stop by and meet Alan and his special musical guests.
With Lucy van Oldenbarneveld in studio, Adrian Harewood will be live in the Ottawa Food Bank's warehouse covering the day's events and providing fundraising updates as we reach our goal to help fill empty plates this holiday season.