CBC Project Give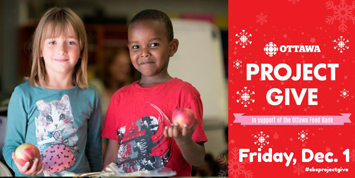 It's a day-long celebration of giving!
This holiday season, help give hope and health to people in need in Ottawa. Join CBC Ottawa on Friday, Dec. 1 for the annual charity drive, Project Give in support of the Ottawa Food Bank.
We will be out in the community with CBC from sunrise to sundown, bringing you a special day of LIVE radio and TV broadcasts, music, and charitable giving.
This year, CBC Ottawa will present a whole day of LIVE broadcasts with your favourite local hosts and reporters. Ottawa Morning, All in a Day AND News at 6 will be live on locations with stories, live music, family recipes and contests in support of the Ottawa Food Bank.
Every month, more than 41,500 people are helped by the Ottawa Food Bank. That's almost 1 in 22 people in Ottawa without access to healthy food choices, 36 per cent of which are children.
A fresh approach
In 2014, the Ottawa Food Bank, through the support of Project Give, piloted the reFRESH program. This program provides fresh food throughout the winter months when the Ottawa Food Bank is no longer able to harvest from their Community Harvest farming program.
The Ottawa Food Bank recognizes the important role of healthy food choices and is investing in programs and initiatives that help provide their clients with access to more foods such as fruits, vegetables, meat, fish and dairy products.
How to donate
Join us for this year's Project Give to help raise awareness and funds for non-perishable and fresh foods for those in need.
1. Click here to donate online. 
2. Call 613-288-6444 on Friday, Dec. 1 from 5:30 a.m. to 8 p.m. to donate.
3. Visit a participating Bridgehead location in Ottawa from December 1st – 3rd, and add a donation to the Ottawa Food Bank to the total of your bill when you pay for your delicious coffee and treats!
Schedule:
5:30 – 8:30 a.m.
Ottawa Morning 
Wake up with Ottawa Morning as host Hallie Cotnam kicks off the day live from the Ottawa Food Bank's member agency, Parkdale Food Centre (30 Rosemount Ave.) with special musical guests Kellylee Evans and Jack Pine and The Fire. Stop by for a free Bridgehead coffee and muffin starting at 6:30 a.m.
3 – 6 p.m.
All in a Day
Host Giacomo Panico will be bringing you All In A Day live from the ​Ottawa Food Bank's member agency, Parkdale Food Centre with musical guests Kelly Sloan, BlakDenim and Rita Carter. Plus here's your chance to snag a limited edition CBC DIY Cookie Kit in support of the Ottawa Food Bank (while quantities last!). You can also catch the participants of our Project Give Community Kitchen in action as they prepare their favourite family recipe.
6 – 7 p.m.
CBC Ottawa News at 6                                      
Rounding up the highlights of the day, CBC Ottawa News at 6 will have fundraising updates, interviews and stories as part of our special Project Give programming.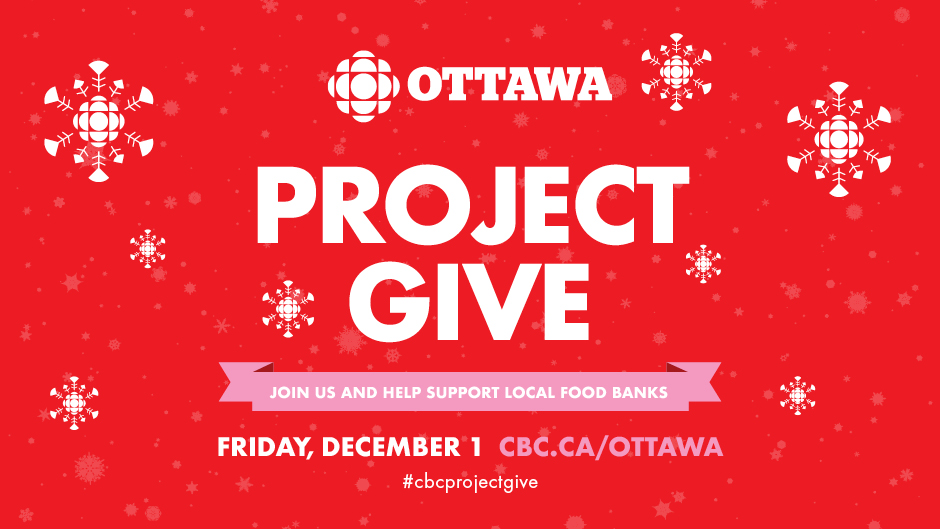 Related Events