Great Bowls of Fire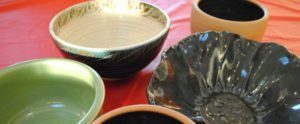 Great Bowls of Fire is a public event hosted annually by the incredibly talented and generous Ottawa Guild of Potters.
The Guild, local chefs, bakers, and musical talent join together to support the Ottawa Food Bank.
Join us for an evening of delicious soups, wonderful music, and beautiful pottery.
For more information, please visit the Ottawa Guild of Potters website.
Last year's event raised $15,7000 for the Ottawa Food Bank!
Tickets are on sale at Il Primo, Life of Pie, and Thyme & Again.
Your tickets includes a handmade bowl, soup, bread, wonderful entertainment, and access to an amazing auction
Your host for the evening is Derick Fage, with music by Jack Hurd on the piano.
Participating Restaurants/Chefs:
Absinthe
Il Primo
Jonathan Korecki
Kung Fu Bistro
Stoneface Dolly's
Thyme and Again
TastersHub
The Joy of Gluten Free
The Rowan
Union Street Kitchen Café
Bakeries:
Life of Pie
Sweet Clementines
The Joy of Gluten Free
Trillium
Related Events