Great Canadian Chicken BBQ at Major's Hill Park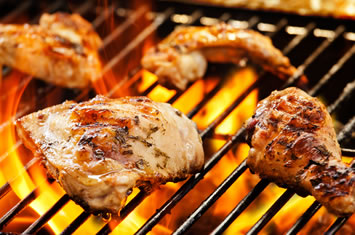 Join the Chicken Farmers of Canada at Major's Hill Park for their annual Great Canadian Chicken BBQ!

A Canadian celebrity chef, Ricardo Larrivée, has created a chicken sandwich recipe for the Great Canadian Chicken BBQ at Major's Hill Park to celebrate Canada Day in style!
Ricardo, a TV host and food writer from Quebec, has created a unique sandwich for Chicken Farmers of Canada (CFC), which is also celebrating its 25th year as the National Sponsor of Canada Day in the Capital.
His special sandwich for Canada's 150th birthday features over 15,000 fresh, Canadian chicken breasts, seared to perfection and marinated in brine, sugar, and pepper, and served topped with cilantro coleslaw and creamed corn!
As in the past,
50 cents

from the sale of each chicken dish is donated to the Ottawa Food Bank. Chicken Farmers of

Canada

would also like to thank Maple Leaf Prime, for providing the chicken for the event and for helping in the fight against hunger.

The Chicken Corner will be full of balloons, music, cooking demos, and other entertainment. Sandwiches will be available for sale Saturday, July 1st from 10 a.m. until 10 p.m., (or while supplies last) and from 11:00 a.m. until 4:00 p.m. on Sunday, July 2nd.
Related Events