A message from Michael Maidment, Chief Executive Officer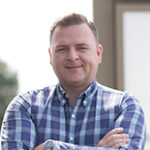 Ottawa's hungry and vulnerable need your support more than ever before. This year, we've focused not only on quantity but on quality. We're ensuring the food we provide to our clients is the healthiest we can provide.
Because of your generous support this year, we doubled the amount of ground beef and milk we distributed. We expanded our distribution of much-needed fruits and vegetables in the winter months. We added fish to our offerings. And we're choosing products like whole wheat bread, whole wheat pasta and brown rice, because we know that healthy food is crucial to moving people beyond hunger.
There is so much dignity in receiving a fresh, nutritious meal, and we're committed to getting the best food that we can into families' homes. Thank you for giving your neighbours a hand up and a path forward.
With my thanks,