[vc_row][vc_column][vc_column_text]
We couldn't do it without you
Volunteering is not only a great help to us, but we hear that it's incredibly rewarding for those who give their time. The kind people who volunteer with the Ottawa Food Bank help us, in the most hands-on way possible, get our neighbours beyond hunger.
We are fortunate to have volunteers of all ages and abilities in every area of our operation. Volunteers do everything from answering phones to delivering food and from sorting donations to assisting at special events and on our farm. To learn more about all the different types of volunteer opportunities, please visit our volunteer page.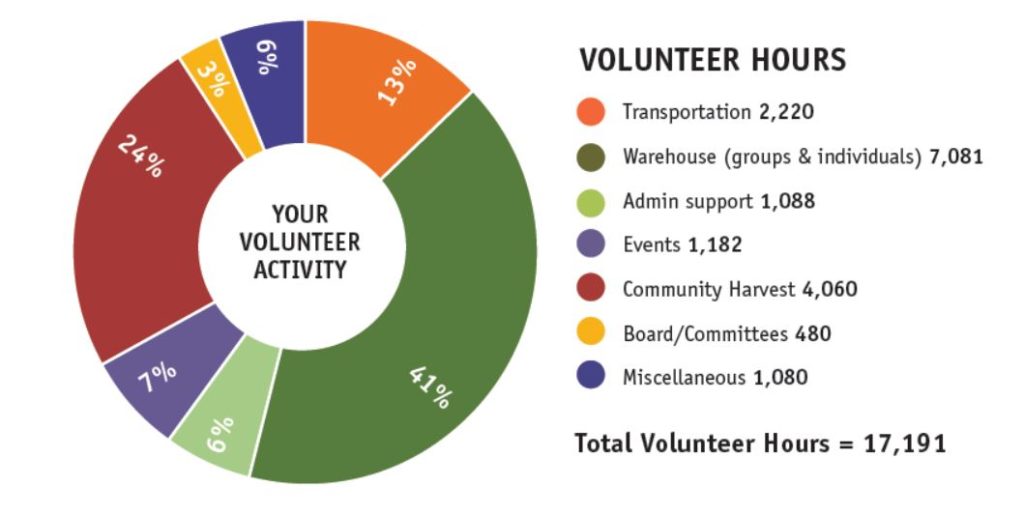 Whether you help on a regular basis or once in a while, we truly appreciate it. We couldn't do what we do without you. The number of hours our volunteers contributed last year is the equivalent to approximately 8 full-time staff members!
I want to volunteer. Now what?
We are THRILLED to hear from people on a daily basis wondering how to volunteer with the Ottawa Food Bank. If you have an interest in lending a hand, the first thing you should do is check out our volunteer page for the types of opportunities available.
Have an interest in volunteering on our farm or at a special event? We have an online calendar where you can pick your volunteer shifts and sign up! Create an account, and we'll be sure to keep you up to date with upcoming events and opportunities.
We are currently getting ready for our Thanks for Giving Food Drive taking place on October 6th and 7th. We would love for you to volunteer with us and help make this food drive a success!
[shortcode_button type="default" align="left" target="_blank" link="https://ofb.volunteerhub.com/events/index" icon="none"]Check out the Volunteer Calendar[/shortcode_button][/vc_column_text][/vc_column][/vc_row][vc_row][vc_column][vc_empty_space][vc_column_text]If you're interested in having a reoccurring volunteer role in our office or warehouse, please sign up for a Volunteer Information Session. We want to ensure you are equipped with all the information you need to succeed in your role. Volunteer Information Sessions are not required for special event or farm volunteers.
It's worth repeating – we couldn't do what we do without our volunteers. To fully understand how much we appreciate our volunteers, and the impact they have on our organization and the community, take a look at our Volunteer Impact Report.[/vc_column_text][/vc_column][/vc_row][vc_row][vc_column][vc_column_text][shortcode_button type="default" align="left" target="_blank" link="https://ottawafoodbank.akaraisin.com/Donation/Event/DonationInfo.aspx?seid=17894&mid=48″ icon="none"]Take Action: Donate Today![/shortcode_button][/vc_column_text][/vc_column][/vc_row]