COVID-19 Debrief and Engagement Session
The Ottawa Food Bank is pleased to host the COVID-19 Debrief and Engagement Session.
COVID-19 has resulted in massive, ongoing change across our city and the Ottawa Food Bank network. It's also been a opportunity for growth and innovation that's allowed us to respond to the community's needs.  In response to COVID-19 and the needs of the network, the Ottawa Food Bank will be hosting a Debrief and Engagement Session instead of the Annual Ottawa Food Security Conference. The online debrief and engagement session offers the chance to reflect on COVID-19 experiences and strategize future responses.
Debrief and Engagement Session Details
Thursday, October 1, 2020
Zoom online session
9:30 am – 4:00 pm
Simultaneous interpretation will be available
Registration is free
Registration
Space is limited
We ask you to kindly limit registration to two (2) participants per organization to allow participation of all organizations.
To register, please RSVP via the Eventbrite invitation that you receive.
Didn't receive an invitation and wish to attend? 
Please contact Anne for access to registration.
Contact Us
If you have any questions or would like to request an invite, we'd love to hear from you.
Anne Millar
Program Development and Evaluation Coordinator
613-745-7001 ext. 140
anne.millar@ottawafoodbank.ca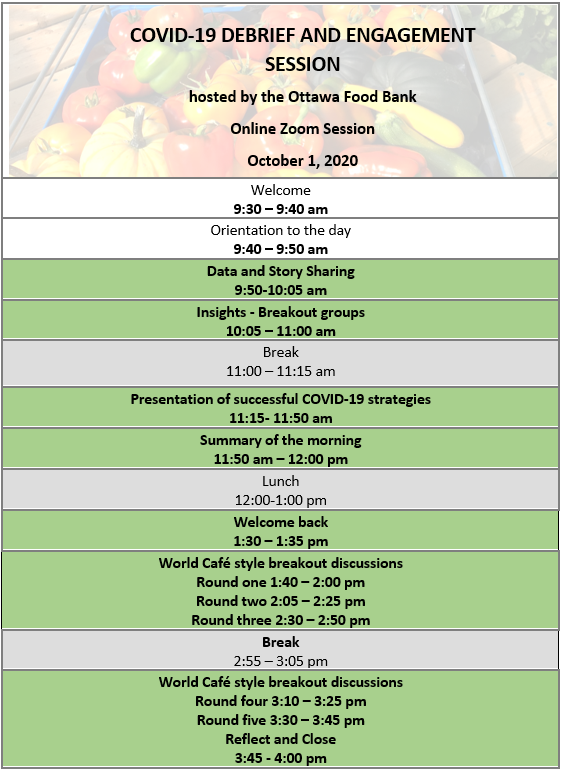 Lisa Attygalle of Tamarack Institute (leaders in the community engagement sector) https://www.tamarackcommunity.ca/ has been contracted to facilitate this interactive, online session.
Wish to be a sponsor at this, our our next, Ottawa Food Security Conference? Contact Anne Millar.