The Ottawa Food Bank collects food in many different ways.
One of our main collection methods is through our red bins at grocery stores across the city.
We have multiple drop-off locations in the Ottawa region to make donating food as easy as possible. When you donate food to the Ottawa Food Bank at a drop-off location, we then collect it and bring it back to Ottawa Food Bank headquarters to be sorted by volunteers and distributed to member agencies across the city.
Click here to search for a food drop off location in your area.
Along with reclamation and recovery of fresh fruits and vegetables through local grocers, we also work with a large number of grocery stores to recover high-quality meat. The stores take top-grade meat and freeze it before the expiry date. We collect these items every week and provide them to our meal program partners and community food banks.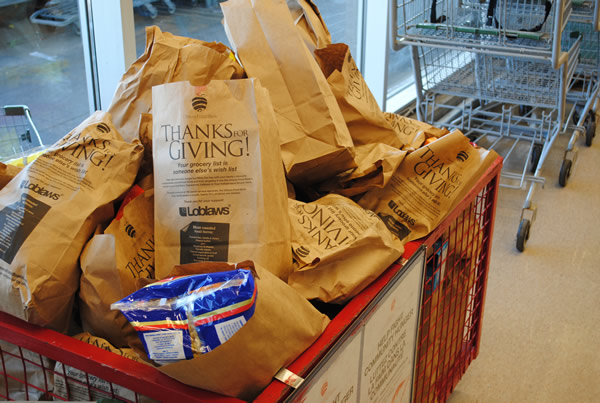 In 2017 we hired a coordinator dedicated to food recovery from local grocery stores, farms, and manufacturers.
Since then, we have seen tremendous results with our food recovery increasing by 144%. More important than the quantity of recovered food, is that the quality of the recovered food has also improved. 
We work with our grocery store partners to identify most needed items and reduce recovery of items not necessary for a balanced diet. Through food recovery we accept produce, tofu, eggs, bread and grains, cheese, yogurt, and meat.
Increase in Food Recovery Since 2017
Our meat recovery program, One More Bite, has increased dramatically.
Thanks to financial support from Loblaw Companies Limited and Food Banks Canada we have been able to expand the program and partner with dozens of grocery stores, including Metro, Costco, Walmart, and Loblaws to increase our protein distribution.
Meat is flash frozen in store several days before its best before date. The Ottawa Food Bank picks up the products and delivers them to emergency food program in our community who make them into a hot meal or provide them to clients.
Food recovery not only opens us up to increased donations, but also keeps quality food out of the landfills.
Fresh is best. That's our approach to raising and delivering food.
of fresh produce grown and eaten
of chicken received and delivered
of our food output is fresh
of food distributed each day