CTV Morning Live Holiday Helpers Food Drive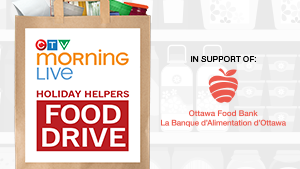 CTV Morning Live's Holiday Helpers Food Drive in support of the Ottawa Food Bank helps raise awareness around the importance of donating non-perishable food items especially during a critical time of year.
CTV Morning Live and the Ottawa Food Bank are calling on YOU to make it great!
Here's how you can participate:
Collect food and/or money at your workplace to donate to the Ottawa Food Bank
Drop off your donations on Thursday, December 7th at 87 George Street (CTV studio). Or you can take your donations to Walmart Orleans (3900 Innes Rd) or the Walmart Baseline (1375 Baseline Rd) – come during the LIVE broadcast (6am – 10 am)
When you make your donation, you might just be a part of live television!
For more information email ottawa.morning@ctv.ca.
[shortcode_button type="default" align="left" target="_blank" link="https://ottawafoodbank.akaraisin.com/Donation/Event/Home.aspx?seid=18418&mid=8&Lang=en-CA" icon="none"]DONATE NOW[/shortcode_button]

Related Events