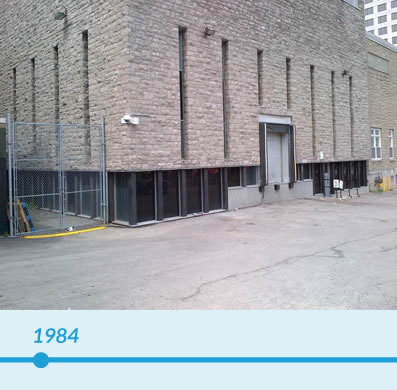 The Ottawa Food Bank was founded in the basement of the former police station on Waller St. by a group of volunteers.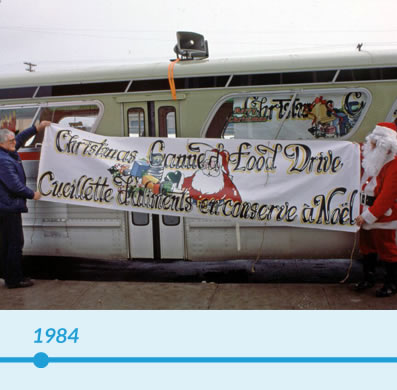 OC Transpo begins their annual OC Transpo Food Drive asking donors to fill a bus for the Ottawa Food Bank. Loblaws is now an important participating partner in this annual event.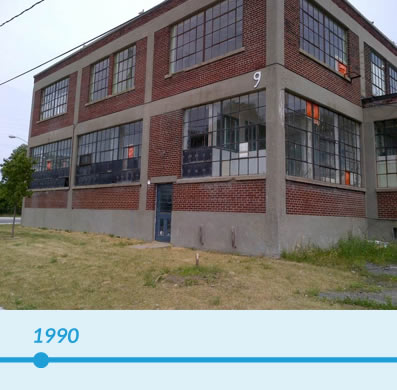 The Ottawa Food Bank moved to a new location – 9 Bayview Road.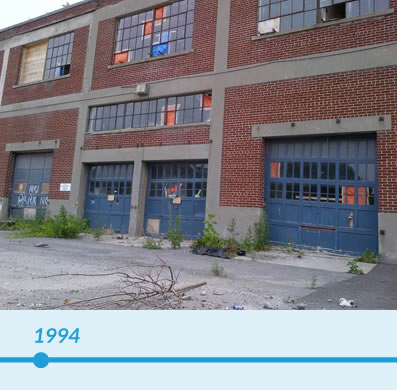 The Ottawa Food Bank moved up the street to a new location at 7 Bayview Road.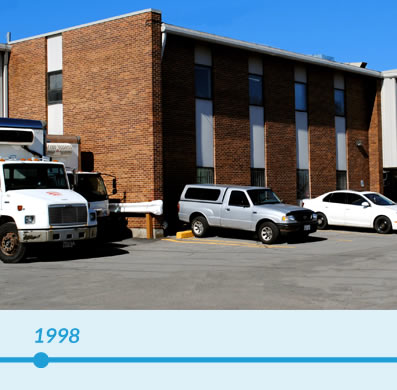 The Ottawa Food Bank moved into its current location at 1317 Michael St.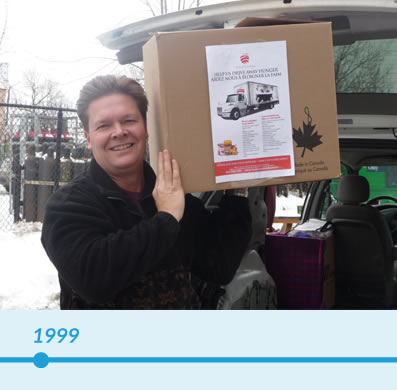 Peter Tilley was named Executive Director of the Ottawa Food Bank.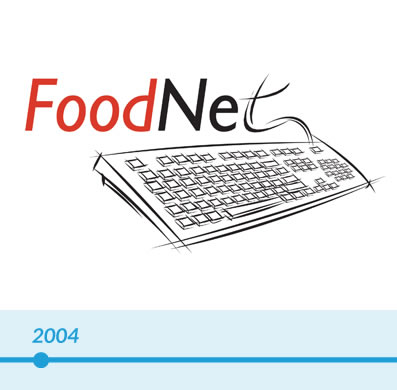 FoodNet, an online program to help us get what's needed to our member agencies, is developed and implemented with generous support from local technology sector – Adobe, Cognos, Cisco and the Ontario Trillium Foundation.
The inaugural Food Aid BBQ took place at City Hall to raise money for the Ottawa Food Bank's new Food Aid program in an effort to raise money to provide nutrient-rich local ground beef.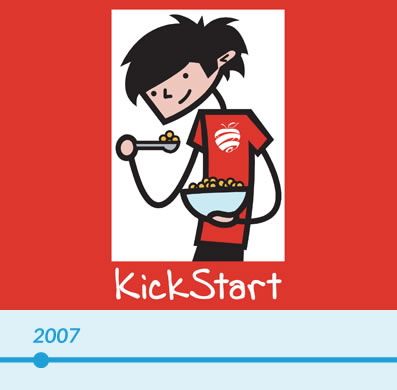 The KickStart Program, a program to provide meals in schools and summer day camps is launched.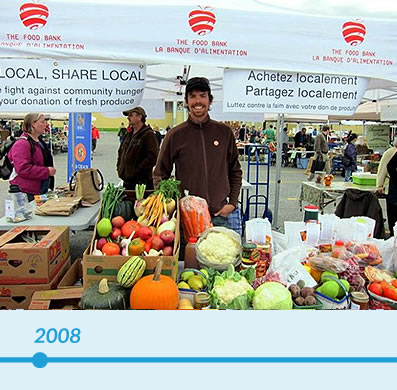 The Ottawa Food Bank gets a booth at the Ottawa Farmers' Market.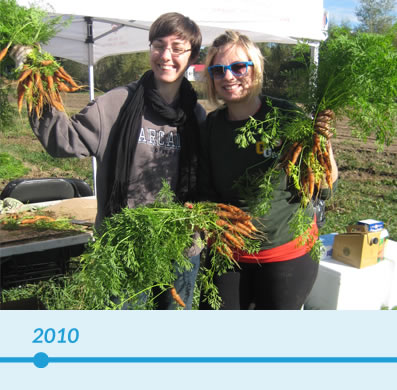 Community Harvest is born! The Ottawa Food Bank begins growing and gleaning fruits and vegetables.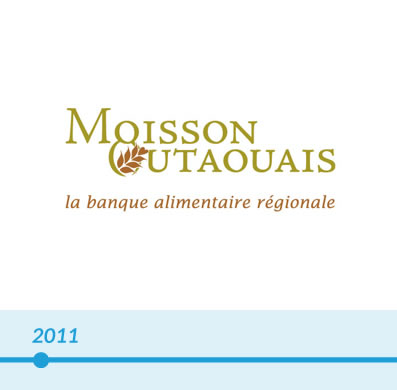 The Ottawa Food Bank worked with Moisson Outaouais to transition 28 Quebec-based food programs to their care.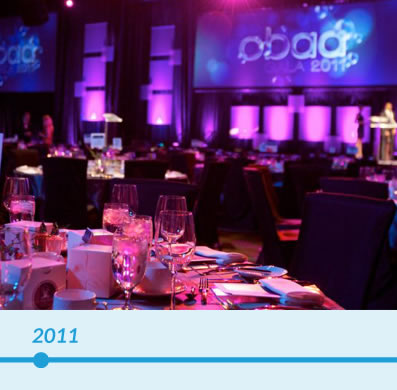 Received the Ottawa Business Achievement Award's Silver Award for a Nonprofit.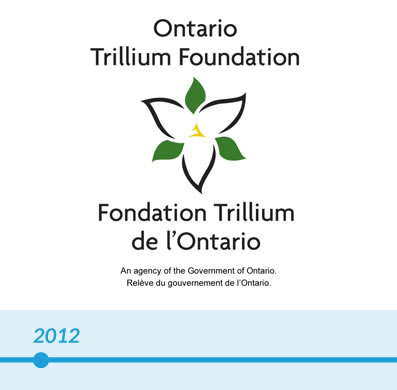 With help from Ontario Trillium Foundation, the Ottawa Food Bank installed a warehouse inventory management application called BlueLink.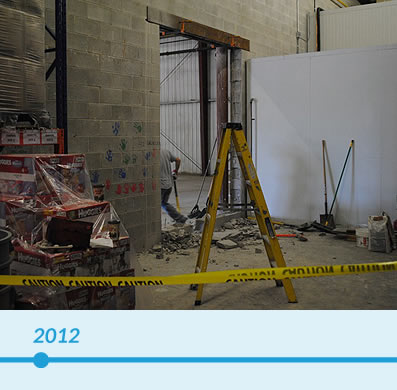 The Ottawa Food Bank expanded into the adjoining warehouse allowing its expanding operation to remain under one roof.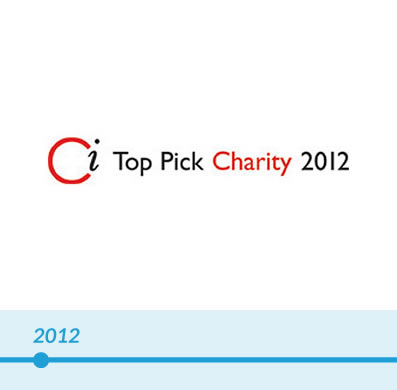 Named Top Pick Charity by Charity Intelligence Canada.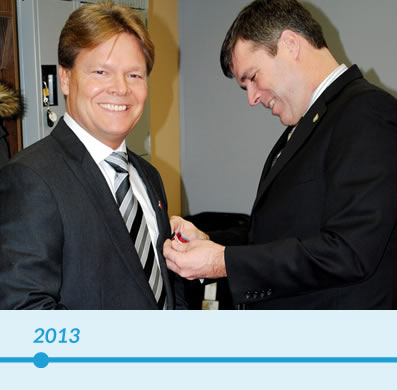 Executive Director, Peter Tilley, awarded Queen's Diamond Jubilee Medal.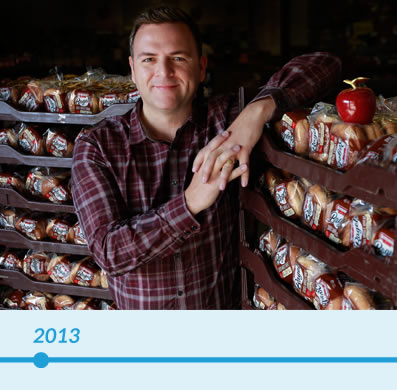 New Executive Director Michael Maidment named to lead the Ottawa Food Bank as Peter Tilley pursued the head role at the Ottawa Mission.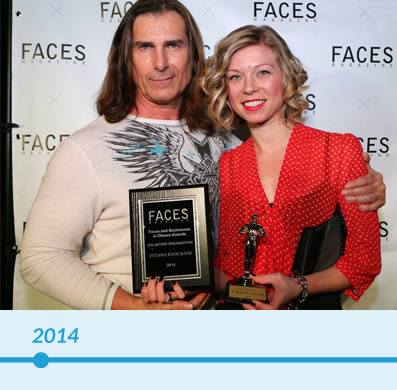 Won Faces Magazine's Non-Profit/Volunteer Organization of the Year.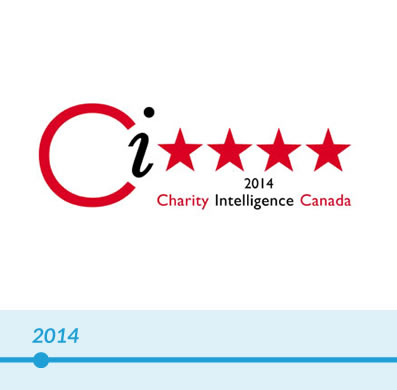 Given 4-Star (formally "Top Pick") Rating by Charity Intelligence Canada.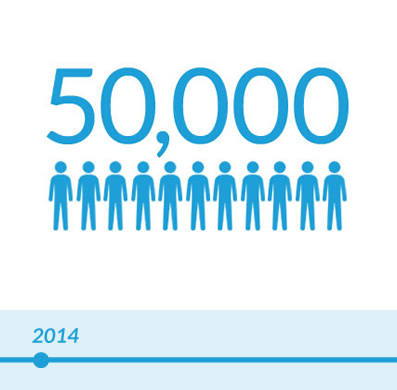 Ottawa Food Bank's 30th year as the Capital region's central distribution centre for emergency food relief. In its 30th year, the demand rose to over 50,000 people per month for the first time.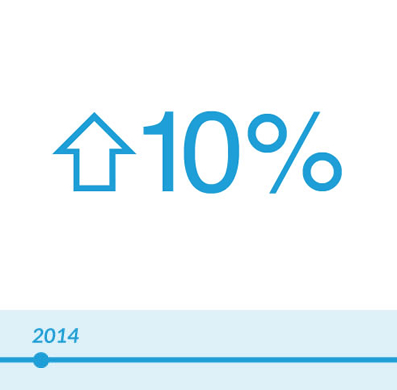 Ottawa Public Health announced that the cost to feed a family of four has gone up by 10 per cent.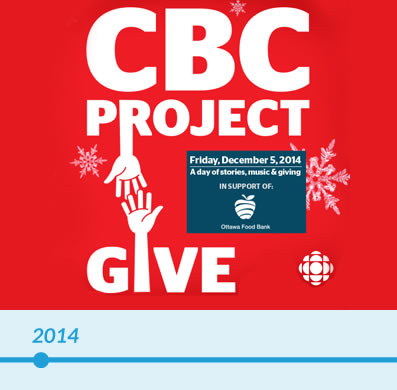 The Ottawa Food Bank was the charity of choice for the CBC's Project Give fundraising campaign.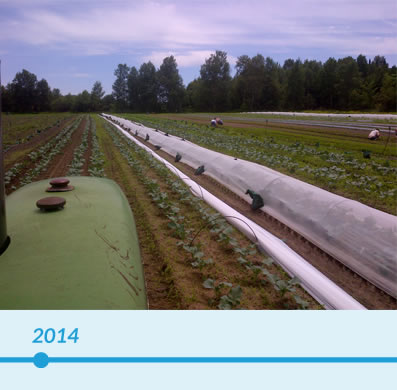 Government launches tax credit for farmers and food banks.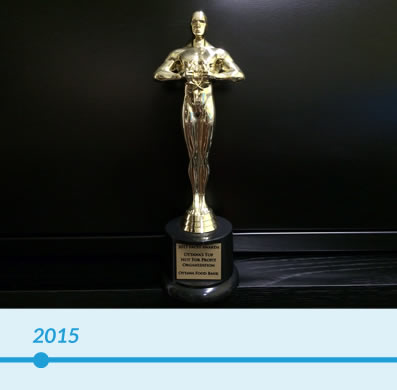 Won Faces Magazine's Non-Profit/Volunteer Organization of the Year.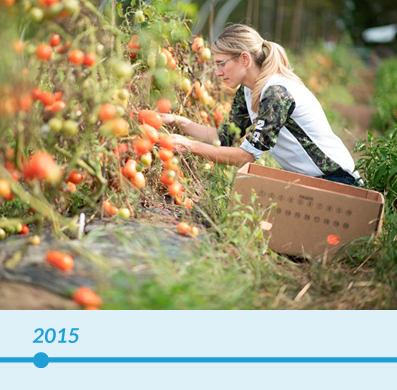 The Ottawa Food Bank's Community Harvest growing program grew over 100,000 lbs of fresh fruits and vegetables for the first time since the program began in 2010.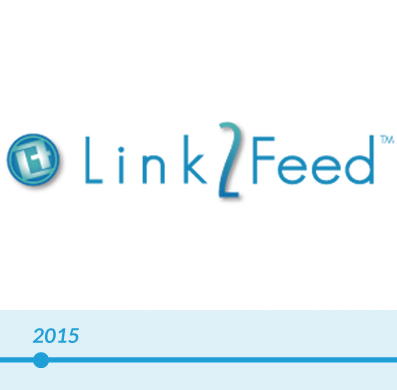 Link2Feed, a client intake and reporting software built especially for food banks, was fully implemented across the Ottawa Food Bank network in October 2015. This means the Ottawa Food Bank will have more accurate data to better serve its member agencies and the community.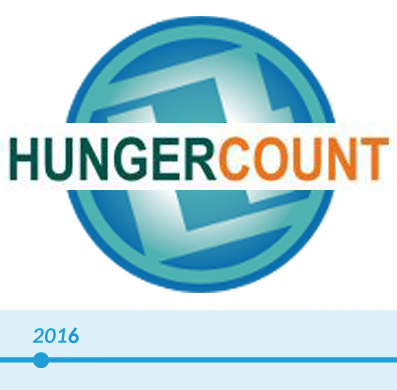 March 2016 marked the first Hunger Count Survey completed with Link2Feed data. This is a feat not just accomplished by the Ottawa Food Bank, but all associations of the Ontario Association of Food Banks.
Getting Food Out
Everyday we see how hunger affects men, women and children and how it can become a barrier to success. People who come to us have families and jobs to keep with bills to pay. Life is challenging enough. Imagine facing it on an empty stomach.
Our goal is simple: Help people get beyond hunger.
WE DO THAT BY:
– Educating people on how to prepare nutritious food on an extreme budget with Ottawa Public Health and Ottawa Social Services.
– Forging a strong network with 112 local agencies who work directly with our clients.
– Working with local farmers and growers who ensure that 47% of the food we deliver is fresh.
– Extending our reach across the Ottawa region through the generosity of corporate donors.
– Fostering relationships with food industry partners to turn every dollar donated into $5 worth of food.
Once food is received, it's sorted at our warehouse and distributed to our agency partners who reach over 38,400 people every month.
Vision
Healthy, accessible, sustainable food for all.
Mission
We work in partnership to create a healthier city by empowering people, increasing access to healthy food, and advocating for systemic changes that reduce food insecurity.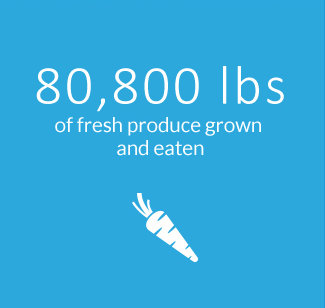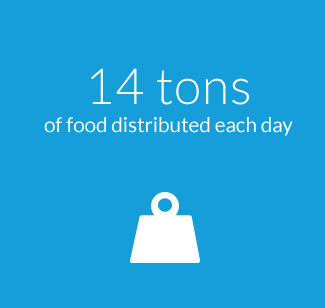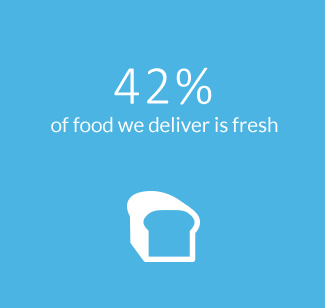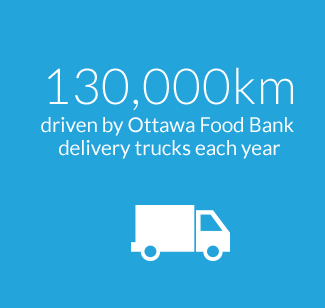 Board
Along with our staff and volunteers, our board of directors are influential in helping the Ottawa Food Bank run.
Chair
David K. Law
Founder & Principal
LAW at WORK
Vice Chair
Greg Strahl
Partner
Palladium Insurance
Treasurer
Sarah Tremblay
Supervisor, Assurance & Advisory Service
Ginsberg, Gluzman, Fage & Levitz, LLP
Directors
Irene Cameron
Principal
Carson Grove Elementary School
Barbara Carroll
Executive Coordinator
Debra Dynes Family Centre
Erin Crowe
Chief Financial Officer
ProSlide Technology Inc
Ivan Gedz
Co-Owner
Union Local 613
Directors Con't
Sylvie Manser
Executive Coordinator
Banff Avenue Community House
Marian McMahon
Assistant Auditor General of Canada
Office of the Auditor General of Canada
Nicole Perras
Executive Coordinator
Orlean-Cumberland Food Bank
Naomi Praamsma
Executive Director
Salvation Army, Bethany Hope Centre
Our Team
It takes a special kind of person to work at the Ottawa Food Bank. So it should be no surprise that our employees are dedicated individuals who bring something special to the team. To contact any member of our staff, email them by typing their first name @ottawafoodbank.ca.
General email: foodbank@ottawafoodbank.ca | Volunteer email: volunteer@ottawafoodbank.ca
Phone number: 613-745-7001 | Fax: 613-745-7377.
Chief Executive Officer
Michael Maidment
[michael.maidment (at) ottawafoodbank (dot) ca]
Executive Assistant
Alexandra Sioulas
[alexandra.sioulas (at) ottawafoodbank (dot) ca]
Finance & Administration
Francine Rukundo – Director of Finance & Administration
Mia Eriksson Blundell- Human Resources Manager
Amy Cailloux – Finance and Donor Relations Coordinator
Diana Kovalevskaya– Raiser's Edge Database Administrator
Paty Rutenberg – Receptionist/Office Coordinator
Jo-Anne Turple – Volunteer Coordinator
Operations
Paul Brown – Director of Operations
Chris Kennedy – Manager of Operations
Travis Glavich – Warehouse Coordinator
Anne Charbonneau – Warehouse Worker & Truck Driver
Denis Fournier – Warehouse Worker & Truck Driver
Derek Merkley – Truck Driver
Adam Campbell – Truck Driver
Mao Nien Chia – Truck Driver
George Plunkett – Truck Driver
Venel L. Charles – Truck Driver
Communications & Development
Rachael Wilson – Director, Communications & Development
[rachael.wilson (at) ottawafoodbank (dot) ca]
Tricia Johnson – Major Gifts & Planned Giving Officer
Alain McKinlay Tilgner – Fundraising Coordinator
Nicole Alphonso – Development Coordinator, Food Industry
Samantha Ingram – Communications Coordinator
Events
Annette Leclair – Events Manager
Maggie Rose – Events Coordinator
Agency Relations/Programs & Planning
Natalie Spooner-Bourgogne – Programs & Planning Manager
Lauren Whalen – Programs & Planning Coordinator
Anne Millar – Program Development & Evaluation Coordinator
Community Harvest
Jason Gray – Community Harvest Manager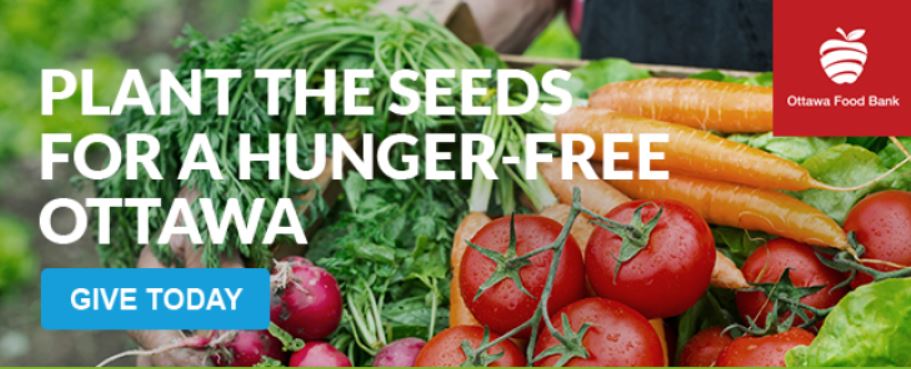 Posted by Ottawa Food Bank
On April 24, 2018
We have an exciting opportunity to provide even MORE fresh, healthy food to families and individuals who need it most. This Spring, when you make a donation directed to our Matching Gift Campaign, the Malhotra Family Foundation will match it! This is an incredible chance to see your donation go twice as far when providing […]
Read More