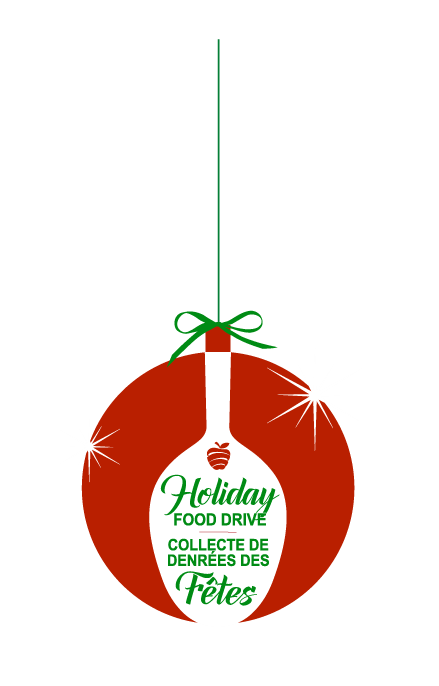 Holiday Food Drive
It is hard enough to not be able to provide gifts to your loved ones at this time of year. But not being able to provide food either is heartbreaking! That's why, each November, we call on YOU and challenge workplaces across Ottawa to collect funds and non-perishable food for families in need, as part of our Holiday Food Drive.
How it works:
Register your workplace, team, community, school Holiday Food Drive online
If you request it upon registration, we will pick up your donations in December with the help of the 33 Service Battalion and Dymon Storage
At the end of your Holiday Food Drive, please fill out our Final Tally Form to let us know how you did – you can include this form with your donations, or email it in
You'll find your Holiday Food Drive toolkit here
But before you begin the registration process, please read our Food Drive/Fundraising Handbook for further helpful information
The Holiday Food Drive is a great way to bring in the holiday season, and the proceeds help the Ottawa Food Bank provide emergency food service to its community food programs and their clients well into the winter months.
For more information, or if you have any Holiday Food Drive questions, please contact our events team.
The minimum limit for donation pick-ups is waived for Holiday Food Drive participants, however if you are able to drop off your donations, it is still greatly appreciated.
Registration is now closed for the season and will reopen November 2018.
Thank you to all who made the 2017 Holiday Food Drive so great!