Over 122,000 lbs grown this year!
The Community Harvest Program grows and collects nutritious, local produce for clients served by Ottawa Food Bank member agencies across the national capital region. In 2020, the program provided a total 157,969 lbs of fresh produce!
Who builds "Community" into the Community Harvest Program?
It's generous local farmers, volunteers, and funders that enable this program, for whom we are profoundly grateful.  It's also our admirable member agencies (e.g. meal programs, community food banks, shelters, etc.) who provide the final linkage between our produce and our neighbours in need.
Dear Farm Volunteers,
I would be remiss if I did not specifically acknowledge the generosity and dedication of the 600 volunteers who supported our Community Harvest farm this past season. Despite the uncertainties and challenges presented by the COVID 19 pandemic, with your help, we were able achieve our best year yet.
On behalf of the farm team and the broader community we serve, thank you so much!
Jason Gray — Community Harvest Manager
| Collection Mode | Sources | Total (lbs.) | % Change — 2019 to 2020 |
| --- | --- | --- | --- |
| Donations | Local Farms | 29,405 | +24 |
| Growing | Black Family Farm | 122,514 | +8 |
| Purchases | Local Farms — Wholesale and/or discount pricing | 6,050 | +107 |
| | Totals | 157,969 | +9 |
Find out how you and your group or organization can get involved and contribute to the 2021 Community Harvest season through our new Adopt A Crop program.
Learn more about the Community Harvest Program.
Growing FRESH Food in our City
Photo Gallery
Take a closer look at the Community Harvest Program in action!
Full 2020 Program Summary
Volunteers
Volunteers are at the heart of the Community Harvest program and we are infinitely grateful for their ongoing support.  Without the tireless support our volunteers – ranging from individuals to corporate teams, and students to community organizations – who provide more than 4,500 hours of manual labour every season, this program could never have evolved so quickly.
Giving
The donation of produce by farmers and home gardeners is also a significant part of the CH program.  Many thanks to the following farms who have generously donated their excess produce this year: Foster Family Farm, Mill Creek Farm, Rochon Gardens and Orleans Fruit Farm. In total, these local farms donated over 29,000 lbs of produce in 2020.
Due to logistical challenges presented by the COVID 19 pandemic, we did not collect donations from vendors of the Ottawa Farmers' Market at Lansdowne Park this year. If circumstances improve nest season, we will be happy to resume our normal market donation retrieval activities. Regardless, we would like to thank all the vendors who have generously provided donations to us in years past, namely, Acorn Creek Garden Farm, Avonmore Berry Farm, Bergeron Gardens and Greenhouses, Guy Bergeron Gardening, Jardin Rochon Gardens, Hall's Apple Orchard, Hoople Creek Farm, Ingleside Tomatoes, Just Farms, Kiwan Farm, Limeydale Farm, Linda's Garden, Luxy Farm, Needham's Market Garden, Roots Down Organic Farm, Roots and Shoots Farm, Savoury Pursuits, Waratah Downs, and Warner's Farm.
Gleaning
Another way that we acquire fresh produce is through gleaning crops on local farms.  In the traditional sense of the word, "Gleaning", is the age-old practice of collecting crops that remain in the field following a farmer's commercial harvest.  The most common gleaning scenario for the Community Harvest program, however, is the harvesting of excess crops that will not be commercially harvested and therefore we yield a very high-quality product.
In 2020, we did not receive any opportunities to glean produce, likely the result of the strict pandemic protocols established on local farms. We wish all local growers a bountiful harvest in 2021.
Growing
One of the most exciting and distinctive aspects of the Community Harvest initiative is the growing of our own crops expressly for donation.
Since the inception of the Community Harvest program in 2010, local farms have kindly provided land for the growing of "food bank crops". From an initial pilot project involving the production of organic carrots and potatoes at Roots and Shoots Farm, our farming program has since evolved to yield a wide range of produce at our seven-acre site at Black Family Farm. In 2020, our Black Farm Growing Project yielded 122,514 pounds of fruit and vegetables.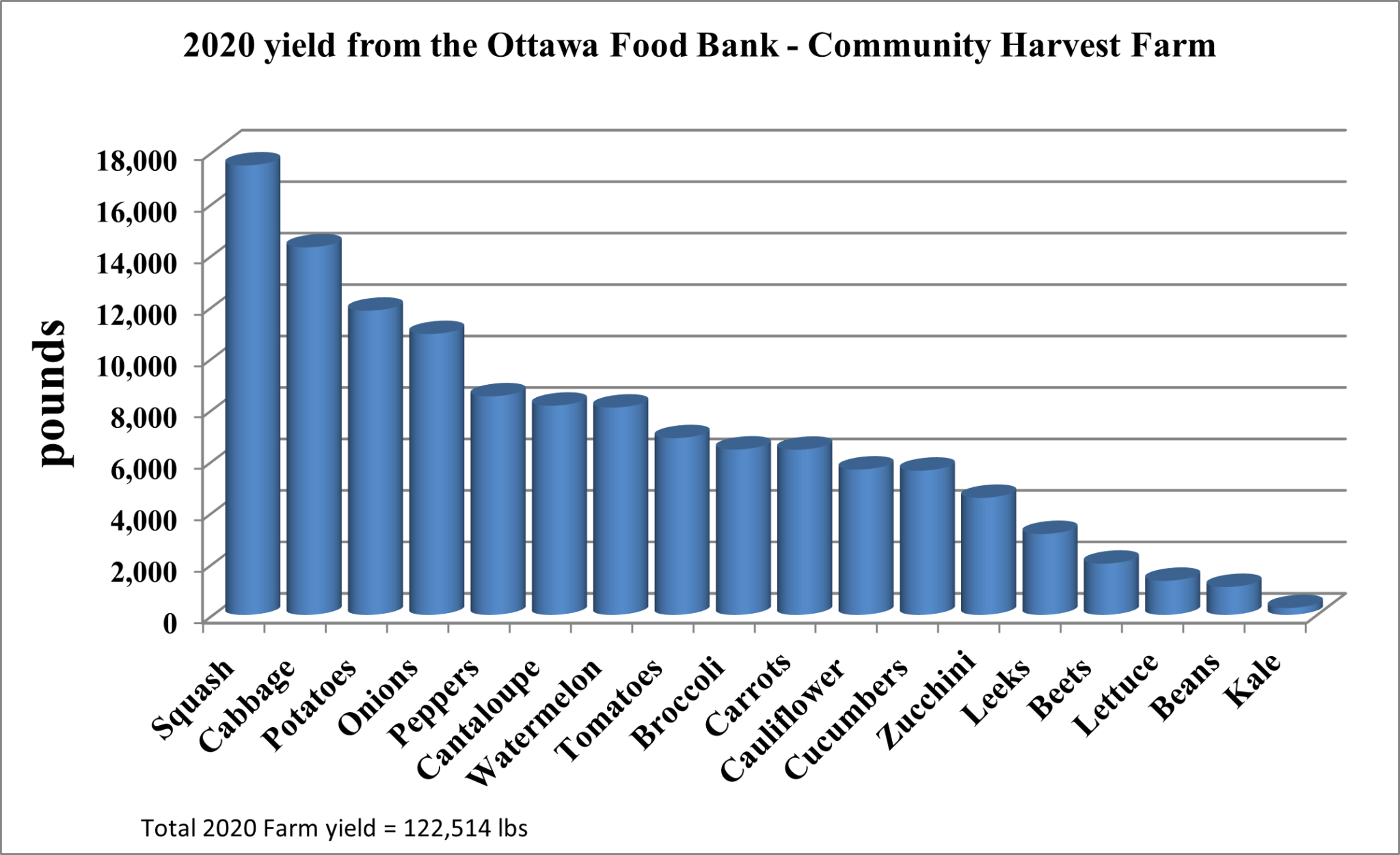 Our farm management involves production methods based on principles of ecological agriculture. We manage soil quality with applications of composted sheep and cattle manure (produced on-farm), yearly crop rotation, diverse cover crops and the judicious use of heavy equipment. We employ efficient irrigation systems and use biodegrable mulch, when needed.  Although the site is not certified organic, we refrain from using synthetic pesticides or fungicides for pest management. Similarly, herbicides are not used; all weeding is done mechanically and/or manually. Crop protection from insect pests is achieved using netting as barriers and/or products permitted in organic agriculture. We strive to continuously increase the biological diversity in and around our field.
We are very grateful to the Black Family who not only offer us the use of eight acres of their land, but also their time, and farming equipment as well.
Please Consider Supporting the Community Harvest Program
During the growing season, we're always on the lookout for dedicated volunteers to help out around the farm.  We also welcome monetary and equipment donations to help make our program more efficient, and to expedite program expansion.
Community Harvest Funders
We thank our supporters, donors, and foundation funders who have supported the Community Harvest program at some point during the past four years:
Black Family Farm
Carrot Cache Community Resources Inc.
Cisco
Community Foundation of Ottawa
Dr. Deborah Zimmerman
Evenchick brothers
Food Banks Canada
Friends of the Greenbelt Foundation
Harold Crabtree Foundation
HEXO Corp
IBM
i-Sight
Johnson Controls
Metcalf Foundation
Ms. Maya-Ruth Kropp-Lazar
Ontario Trillium Foundation
Ottawa Veg Fest
RIM
RBC
Stantec
Stanton Drilling Inc.
Students at Glebe Collegiate Institue
TD Friends of the Environment Foundation
Telus
The City of Ottawa
The Gocan Family
The Home Depot (Kanata)
Thomas Cavanagh Construction Ltd.
of fresh produce grown
and distributed
of food distributed
each day
of food we deliver
is fresh
driven by Ottawa Food Bank
delivery trucks each year