OC Transpo Annual Christmas Food Drive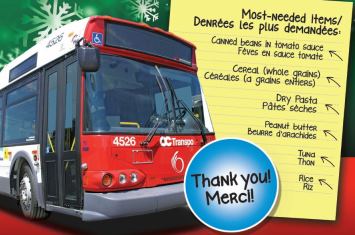 FILL A BUS!
Time for a food drive that is as old as the Ottawa Food Bank itself!
This is always a fun food drive for the Ottawa Food Bank – and they're at it again for the 33rd year in a row!
OC Transpo will be parking buses outside participating Loblaws, Superstores, No Frills, and Your Independent Grocers locations across Ottawa with the goal of packing them full of food! Stop by to donate on Saturday, December 2nd between 9 a.m. and 6 p.m.
Participating Locations
Loblaws:
Vanier – 100 McArthur Rd
Bells Corners – 59A Robertson Rd
Barrhaven – 3201 Greenbank Rd
Isabella – 64 Isabella St
College Square – 1980 Baseline Rd
Gloucester – 1980 Ogilvie Rd
Merivale – 1460 Merivale Rd
North Kanata – 200 Earl Grey Dr
Carlingwood – 2085 Carling Ave
Rideau – 363 Rideau St
South Keys – 2210C Bank St
Elmvale – 1910 St. Laurent Blvd
Real Canadian Superstore:
Westboro – 190 Richmond Rd
Orleans – 4270 Innes Rd
Kanata – 760 Eagleson Rd
Your Independent Grocer:
Brown's – 1251 Main St
Wilson's – 2691 Alta Vista Dr
Dessureault – 1619 Orleans Ave
Moncion's – 671 River Rd
McDaniel's – 200 Grant Carman Dr (will have volunteers but no bus)
Massine's – 296 Bank St (will have volunteers but no bus)
Laura's – 300 Eagleson Rd (will have volunteers but no bus)
Ross – 3777 Strandherd Dr (will have volunteers but no bus)
No Frills:
Brandon and Megan's No Frills – 1226 Place D'Orleans Dr
Related Events