Today marks the beginning of a heartwarming initiative that brings smiles to both cookie lovers and those in need in the Ottawa region. Tim Hortons has launched its annual Holiday Smile Cookie campaign, where 50% of the proceeds from each $1.50 cookie sold will be donated to the Ottawa Food Bank from participating restaurants in the Ottawa region.
Earlier today, the Ottawa Food Bank hosted a lively launch event at its warehouse, attended by an illustrious group of guests.
The Honourable Mona Fortier, Federal MP for Ottawa-Vanier, Councillor and Deputy Mayor Glen Gower of Ward 6 Stittsville, Deputy Chief Nathan Adams, and six local Tim Hortons franchisees were among those present.
The operations team, including Christine Beaudrie (Regional Marketing Manager for Tim Hortons), Susan Dennison (Franchisee and Local Holiday Smile Cookie Champion), and Allison Portt (Tim Horton's Children's Foundation Representative), added their support to this noteworthy cause.
Adding a touch of fun to the event, a cookie icing contest took place, featuring five talented competitors:
Rachael Wilson (CEO of the Ottawa Food Bank)
Deputy Mayor Gower
Chief Nathan Adams
the Honourable Mona Fortier
and Allison Portt.
After a friendly competition, the winner of the decorating contest was none other than the Honourable Mona Fortier, MP for Ottawa-Vanier.
This collaboration between Tim Hortons and the Ottawa Food Bank is not only about providing financial support but also raising awareness about the importance of community involvement.
This week from November 13 to November 19, 2023, you can indulge your sweet tooth while contributing to a noble cause. Tim Hortons, a beloved Canadian institution, is offering its iconic Holiday Smile Cookies at participating locations. To find the nearest participating store and see exactly which organization they are supporting, check out the Smile Cookie campaign map .
The Ottawa Food Bank extends its sincere gratitude to Tim Hortons, the participating organizations, and individuals who have come together to make a positive impact on the community. It is through such partnerships and collective efforts that meaningful change occurs.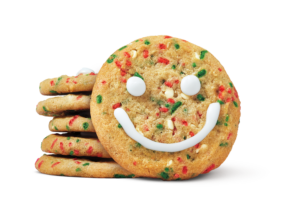 As you enjoy your Holiday Smile Cookie, remember that each bite contributes to a brighter future for those in need. Let's continue spreading joy, kindness, and the spirit of giving throughout the holiday season and beyond. Together, we can make a difference in the lives of our neighbours and build a stronger, more compassionate and food secure community.