Food Drive – France in Canada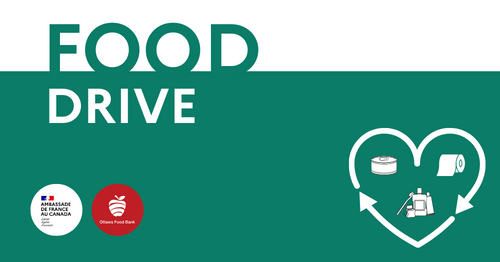 The French Embassy in Canada is organizing a collection of non-perishable food items and toiletries between July 1, 2022 and July 14, 2022 to show solidarity with the community and to celebrate July 14.
When?
Friday, July 1st, at our Doors Open event (8:30 a.m. to 4:30 p.m.)
Tuesday, July 5th and 12th (3 to 6 p.m.)
What?
Non-perishable food items (pasta, rice, canned goods, etc.)
Toiletries (diapers, feminine hygiene products, toilet paper, soap, toothpaste, toothbrushes, etc.)
Where?
 The parking lot outside the Embassy of France (10 John Street, Ottawa)
Donate during our collection drive and you'll have a chance to win an invitation to our Bastille Day garden party! Those who donate food items will receive a ticket for the draw.
Related Events