Giving Tuesday 2022
Giving Tuesday is back!

Giving Tuesday, which has been observed annually since 2012, is the Tuesday following Black Friday and Cyber Monday, and is a day dedicated to giving back.
This day kicks off the gift-giving season for many of us. Help us give back to the Ottawa community and celebrate the true spirit of the holidays.
Each month, tens of thousands of individuals and children living in Ottawa depend on the Ottawa Food Bank for emergency food assistance.
If you found some good deals on Black Friday and Cyber Monday, consider paying it forward to help feed hungry children and families.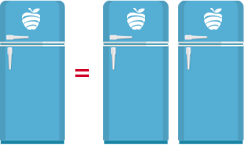 There are so many people in need of food throughout the holiday season. Thanks to Sobeys and their generosity, your gift will have 2X the impact this Giving Tuesday, as 1 full fridge becomes 2!
Due to the increased need – our goal is even higher this year. With your help, we can help families in need across Ottawa!