REIC/IREM Ottawa Chapter Annual Golf Fundraiser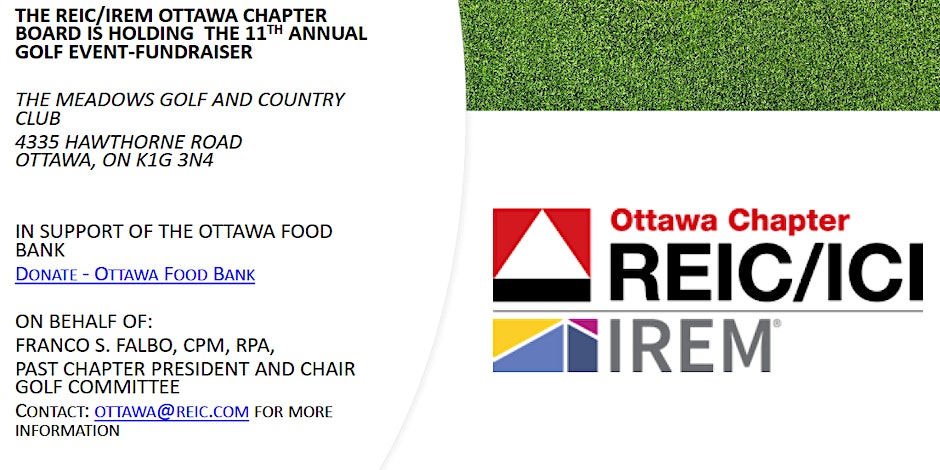 The REIC/IREM Ottawa Chapter Board is holding the 11th Annual Golf Event-Fundraiser at The Meadows Golf and Country Club in Support of the Ottawa Food Bank.
We invite you to take this opportunity to participate in shaping the future of the Ottawa Chapter by participating and becoming a sponsor.
Sponsorship will provide your firm an opportunity to demonstrate excellence to fellow members, suppliers and potential clients, in addition to providing increased visibility and access to industry decision makers.
Please extend an invitation to your colleagues and ask them to take advantage of this opportunity to network by sponsoring the event and joining the dialogue to share information on new developments and opportunities.
A leader in advanced real estate education, the Real Estate Institute of Canada (REIC) is an association of professionals that has been educating and certifying individuals in real estate since 1955. The internationally recognized designations offered by REIC are an excellent way for consumers, investors and portfolio managers to identify committed and experienced real estate professionals.
REIC courses, which can be taken as part of an Institute designation, or as stand-alone education, are the most well-respected and comprehensive courses offered for real estate professionals across Canada.
REIC members have extensive experience in their sector of the Real Estate Industry, proven by the successful completion of their accreditation studies.
Related Events