November is Diabetes Awareness Month!
Observed around the globe, Diabetes Awareness Month is a time when individuals, community groups, organizations, and people come together to bring attention to diabetes. This week, we ask ourselves: Why does type 2 diabetes disproportionately affect those living on a lower income?

Those who experience food insecurity are often unable to afford nutritious foods that are the cornerstone for prevention and treatment of type 2 diabetes. Fresh, nutritious food is often more expensive than processed foods, leading to compromises when considering a limited budget. While food insecurity is not a budgeting issue, the cost of eating well can feel significant.
Each year, Ottawa Public Health conducts the Nutritious Food Basket survey. The survey measures the cost of basic healthy eating and is used to monitor the affordability and accessibility of healthy foods in our city. The results of the Nutritious Food Basket survey show that low-income households struggle to afford their bills while also putting healthy food on the table.  Families often choose between paying for fixed expenses (such as rent, transportation, and heat) and buying groceries.
For more information, check out the Nutritious Food Basket full report and infographic.
Throughout the COVID-19 pandemic, we have seen an increase in food bank usage across the region, as rising food prices, the cost of housing and loss of employment have created a "perfect storm." This storm has created associated risks for chronic diseases such as diabetes and can lead to poor health outcomes – such as skipping meals and experiencing low blood sugar.
The Ottawa Food Bank is committed to providing healthy, accessible, sustainable food for all, and recognizes that food banks are not a long-term solution to poverty. The Ottawa Food Bank advocates for income-based policy solutions at all levels of government, and regularly invests in improving the nutritional quality of the foods distributed.

Nutritious food is the foundation of good health and can prevent chronic diseases like type 2 diabetes. 

At the Ottawa Food Bank, we regularly consult with our Registered Dietician, Jill Burns, to improve access to nutritious foods that reduce the risk of chronic diseases such as type 2 diabetes. This Diabetes Awareness month, Jill has created a series of diabetes-friendly recipes that use nutrient packed-ingredients found at a food bank – stay tuned each week for a new recipe!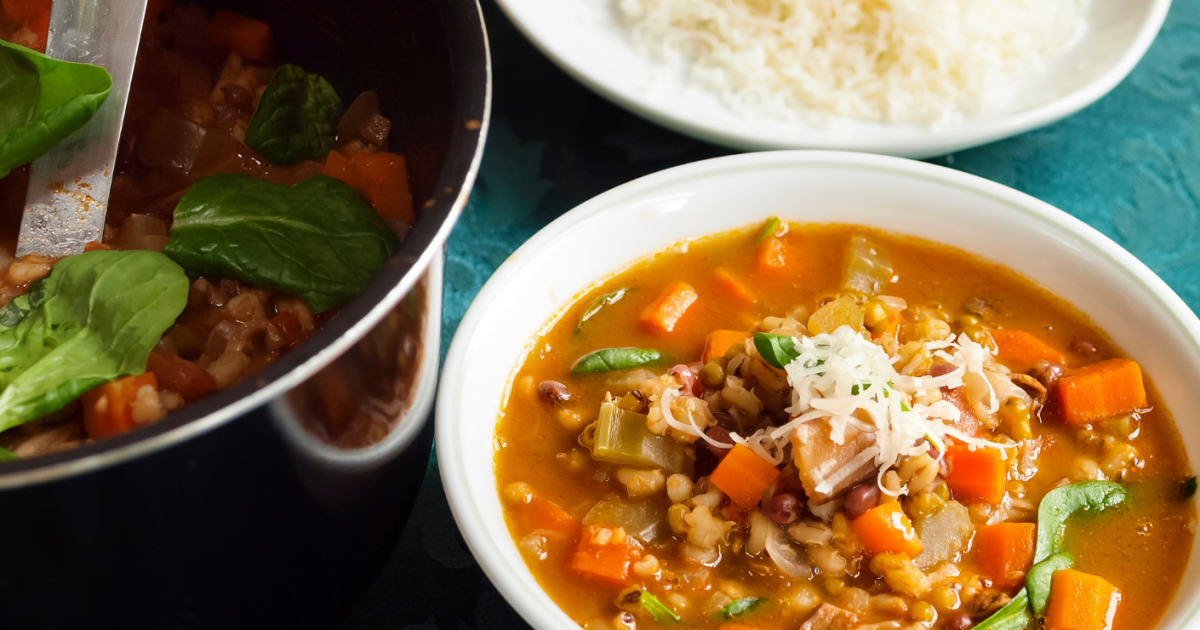 Bean and Barley Soup
Recipe by: Jill Burns, RD
Ingredients
1 tablespoon oil

1 onion, chopped

4 cups broth or water

¼ cup barley, well rinsed

1 carrot, chopped

1 can tomatoes

1 can beans, rinsed and drained (chickpeas or kidney beans or black beans

1 teaspoon spices or herbs of choice

Salt and pepper to taste
Directions
In a large pot, heat the oil on a medium heat

Add onion and sauté for 5 minutes or until soft

Add broth or water, and barley

Bring to a boil, reduce heat and simmer for 15 minutes

Add carrot, tomatoes, beans, spices/herbs and salt and pepper to taste

Bring to a boil again, reduce heat and simmer for a further 10-15 minutes or until barley is soft