November is Diabetes Awareness Month!
Observed around the globe, Diabetes Awareness Month is a time when individuals, community groups, organizations, and people come together to bring attention to diabetes.
In high-income countries like Canada, we are seeing overnutrition caused by overeating or consuming highly processed foods, and undernutrition caused by a lack of nutrients, either as a result of a poor diet, problems absorbing nutrients from food, or a lack of access to healthy, fresh food. 
In Canada, 1 in 3 people who access food banks are children. This means over 300,000 children in Canada struggle accessing enough healthy, fresh food each month. This can have long term implications for children's health, development, learning and growth.
At the Ottawa Food Bank, we take a life course view recognizing that the quality of foods eaten from birth onwards impact the risk for developing chronic diseases, such as diabetes, in later life. As 33% of people accessing a food bank are children, we pay special attention to improve access to healthy nutritious food for children and their families. We see every snack or meal as a nutritional opportunity.
How is the Ottawa Food Bank helping children access healthy foods?
All food for our children and youth programs are dietitian approved and meet the highest nutritional standards.
The Ottawa Food Bank has partnered with Ontario Network for Education to provide fresh produce to 8000 children during July and August 2021 through our Summer Lunch Program for children and youth.
The Ottawa Food Bank participated in the Food Banks Canada After the Bell Program for children. We are reaching 2800 children this Fall and offering a range of healthy snacks and fresh produce approved by registered dietitians.
The Kickstart After 4 program: during the school year (and throughout the COVID-19 pandemic) we support 17 children's after school programs across the city with fresh nutritious snacks.
At the Ottawa Food Bank, we regularly consult with our Registered Dietician, Jill Burns, to improve access to nutritious foods that reduce the risk of chronic diseases such as type 2 diabetes. This Diabetes Awareness month, Jill has created a series of diabetes-friendly recipes that use nutrient packed-ingredients found at a food bank – stay tuned each week for a new recipe!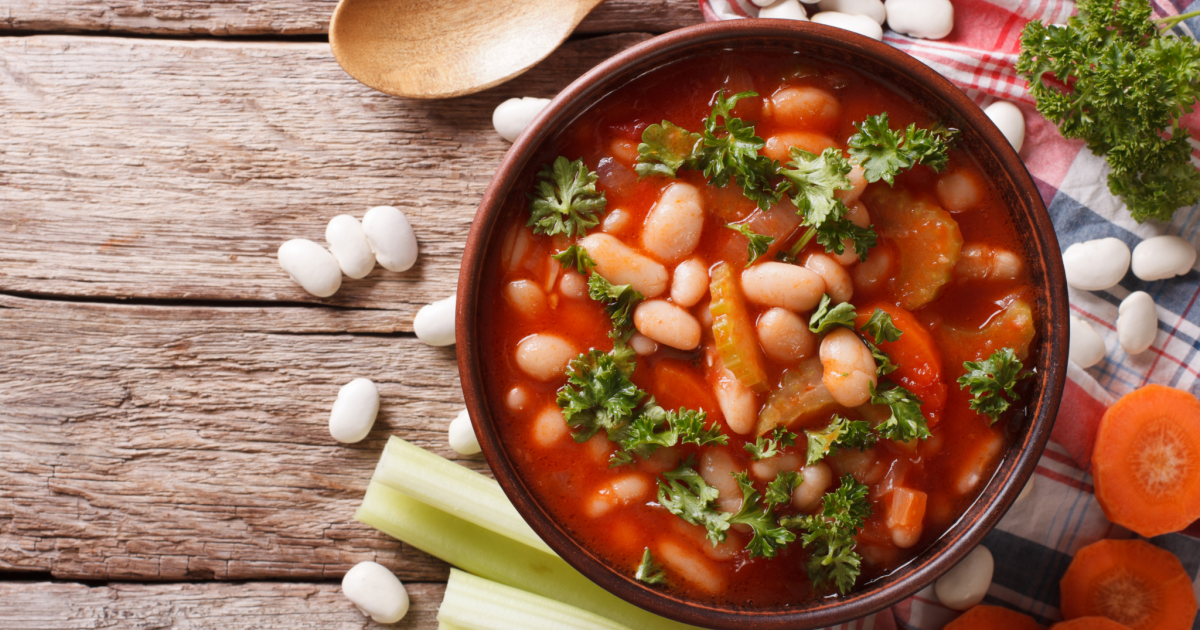 Hearty Beef Minestrone
Recipe by:
Cookspiration.com and Soup Sisters
Although minestrone is considered a soup, this is a meal in a bowl.
If it is too much, freeze it and enjoy it on another day!
Ingredients
1 lb. lean ground beef
1 onion, chopped
1 can diced tomatoes
1 pepper, chopped
1 potato (sweet or white), diced
2 carrots, sliced
1 cup pasta of choice
6 cups water
1 can beans or chickpeas
1-2 teaspoons herbs or spices of choice
Salt and pepper to taste
Directions
Over a medium heat, brown the beef. Break it apart with a utensil until no longer pink (about 10 minutes). Drain off excess fat.

Sauté onion over medium heat until soft (3-5 minutes)

Add browned beef, tomatoes, pepper, potato, carrots, pasta, water, herbs and beans. Cover.

Bring to a boil, reduce heat and simmer for 20 minutes or until pasta is cooked