November is Diabetes Awareness Month!
Observed around the globe, Diabetes Awareness Month is a time when individuals, community groups, organizations, and people come together to bring attention to diabetes.
Food that is high in nutrients is the cornerstone of good health and can help to prevent chronic diseases such as type 2 diabetes. While many facets of poverty have an influence on health, being able to serve your family a nutritious dinner can help to alleviate some of the stress.
How can you help?
While your monetary donations enable us to turn $1 into $5 worth of food, your food donations have the potential to enhance someone's health as well. Every day, our warehouse employees are reminded of Ottawa's collective kindness, and it is especially present during this holiday season of giving. If you're unsure what food to donate or there's a food drive coming up, use the list below as a starting point for improving someone else's health.
Nutritious Food

Welcome Donations

Vegetables & Fruit
Low sodium canned goods, including:

• Vegetables

• Hearty vegetable soups

• Fruit in cans, cups or bowls in own juice or water

• Apple / fruit sauce with no added sugar

Grains
Whole grains, including:

• Barley, oats, bulgur, buckwheat, quinoa, rice, pasta

• Wholegrain crackers

• Wholegrain cereals - low sugar

Proteins
Plant-based protein sources, including:

• Canned or dried beans, lentils, chickpeas, peanut butter

Animal based protein sources, including:

• Canned tuna, sardines, salmon, chicken or turkey

Pantry Staples

• Oil, herbs, spices and iodized table salt
At the Ottawa Food Bank, we regularly consult with our Registered Dietician, Jill Burns, to improve access to nutritious foods that reduce the risk of chronic diseases such as type 2 diabetes. This Diabetes Awareness month, Jill has created a series of diabetes-friendly recipes that use nutrient packed-ingredients found at a food bank.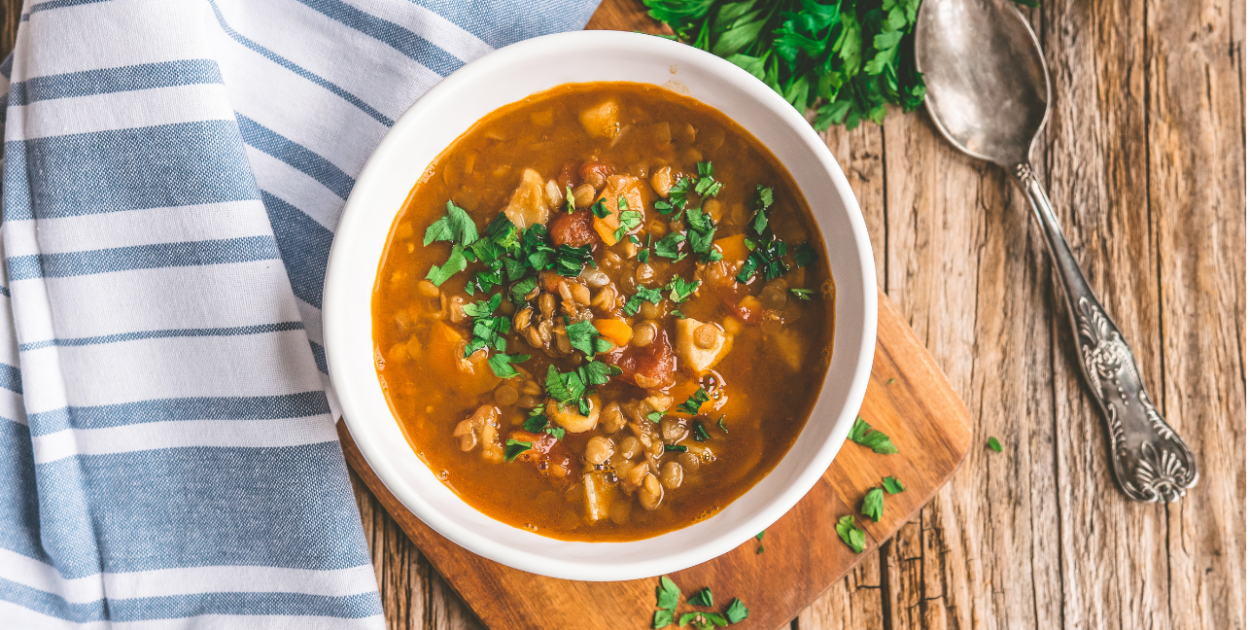 Lentil Soup
Recipe by: 
Jill Burns, R.D.
A high fibre, heart healthy lunch-time soup. Adding a hint
of herbs, spices or some lemon rind/juice can keep it interesting. Enjoy
with a chunk of whole grain bread and a plate of greens to round it out
to a meal!
Ingredients
• 2 tablespoons of oil
• 1 large onion (diced)
• 1 clove of garlic
• 2 cups of lentils (dry)
• 6 cups of water
• 2 medium stalks celery (chopped)
• 1 medium sweet pepper (chopped)
• 2 medium carrots (cut into chunks or rounds)
• 1 can of tomatoes
• 2 teaspoons of curry powder (optional)
• Salt and pepper to taste
Directions
1. Heat oil in a saucepan over medium heat
2. Add onion and sauté until soft
3. Add garlic and sauté for 1 minute
4. Add lentils, water, celery, pepper and carrots
5. Gently simmer until the lentils are soft (15-20 minutes), adding more water as needed
6. Add tomatoes, curry power (or cumin), salt and pepper stirring until blended. Cook for a further 5 minutes